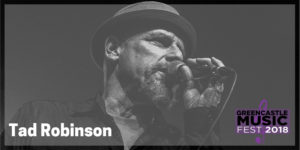 Greencastle, IN – The annual Greencastle Music Fest hosted by Almost Home Restaurant is set to take place in the streets of downtown Greencastle on August 25, 2018. The talented lineup for the highly anticipated event was recently finalized and includes one of the leading voices of modern soul-blues music, Tad Robinson and his band.
The musician originally from New York City, now residing in Greencastle, will be accompanied by the bluesman, Gordon Bonham on guitar and vocals, keyboard player Kevin Anker, bassist Dave Murray and drummer Jeff Chapin. Anker, in addition to touring with Tad, is currently a full-time touring and recording member of the legendary blues-rock band, The Fabulous Thunderbirds. Murray and Chapin make up what is considered to be one of the prized roots music rhythm sections in Indiana and have worked with just about every notable blues and Americana act in the area.
To make their performance at the Greencastle Music Fest even more exciting, they will be joined by the Indiana music treasure, bluesman, Gordon Bonham. Bonham is known around the Midwest for playing his own brand of guitar-powered blues and roots Rock & Roll. The Band's set for the event will be a variety of new originals and heartfelt covers of soul and blues tunes, many written by friends and collaborators of Robinson.
In addition to his regular monthly Indianapolis-area performances, Robinson's schedule this year has included shows in California, Ohio, New York, Romania, France, Germany and Belgium as well as a recording session in Memphis for an upcoming new release. For more information about Tad's upcoming shows see his website at http://www.tadrobinson.com/
Gail Smith, owner of Almost Home Restaurant said, "I am absolutely thrilled to have such an amazing group of musicians here to kick off our 9th Music Fest. Bringing these musicians to Greencastle, along with the others we have lined up, will truly make this an amazing day in downtown!"
Stay up to date on the Greencastle Music Fest by visiting the Facebook page. Information about sponsorship opportunities as well as general information can be found at www.greencastlemusicfest.com
About Greencastle Music Fest and Almost Home
Greencastle Music Fest is a community music gathering that has been taking place in the streets of Greencastle, Indiana and is now in its 9th year. The event began as an anniversary celebration for local Greencastle restaurant, Almost Home, and is still hosted by the restaurant today. Almost Home is a restaurant located in Greencastle, Indiana and has been a staple in the community for 28 years. True to their name, the food served is comfort food at its finest,  making customers feel as if they are "Almost Home".  In addition to the restaurant they have Swizzle Stick Bar, offer on-site private parties and cater many offsite events throughout the year.  For more information about them, please visit their website at www.almosthomerestaurant.com.