Things to Know Before You Go!
$10.00 admission fee each night
Online ticket sales end Thursday, Aug 24 at 9:00 PM
Children 10 and under are free
Kids Area open each night:

Friday,  5:00 -8:00 PM
Saturday, 4:00 – 8:30 PM

There are many road closed signs going in and out of Greencastle. However, these signs are for trucks and you can get into Greencastle without problem from any direction.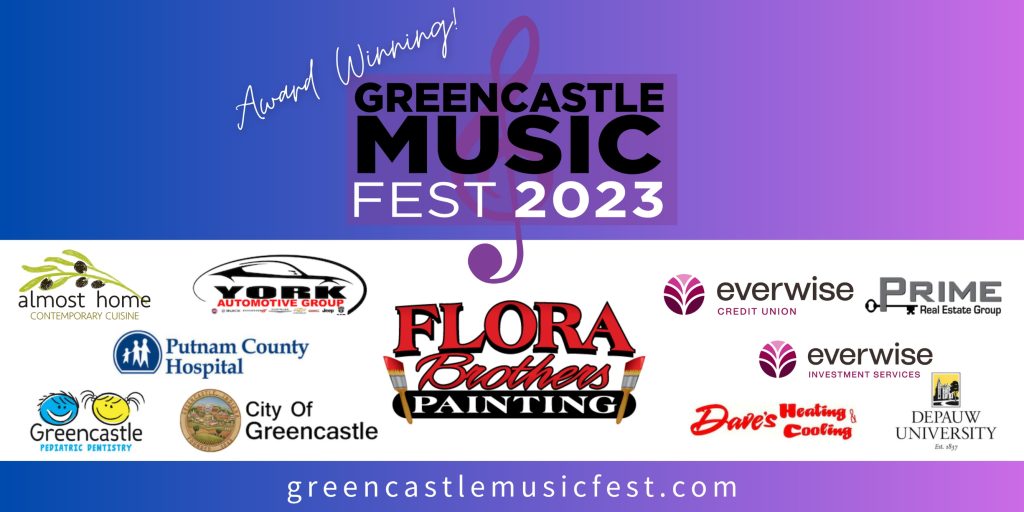 Friday (Aug 25) Schedule
5:00 PM: Event Opens
5:30 PM: Sponsor Recognition
6:00 – 8:30 PM: The Woomblies Rock Orchestra
8:30 – 11:00 PM: The Crashers
Saturday (Aug 26) Schedule
3:00 PM: Event Opens
3:30 PM: Sponsor Recognition
4:00 – 8:30 PM: Kids Area Open
3:00 – 5:00: Corn Hole Registration (details here)
5:30 PM: Corn Hole Tournament Begins
3:30 – 5:30 PM: The Big Fun Band
6:00 – 8:30 PM: Levi Riggs
9:00 – 11:00: The Flying Toasters
Entrances & Exits
Washington St. and Indiana at ONB
Jackson and Franklin St. and Indiana and Columbia St. by FREE parking lot
Event Rules
No alcohol can be brought into the event or taken out of the event per Indiana State Excise laws
NO PETS, bikes, or scooters permitted
No weapons allowed
Small strollers are allowed
Lawn chairs are permitted on the courthouse lawn only
Amenities
Several areas with hand washing stations
Restaurants on the square are open for fan dining with admission
Most areas accept cash or cards
Food & Drinks
Beer gardens provided by Almost Home
Food:

Almost Home
Wing'n Out
Don Julio's

Kid's Area: