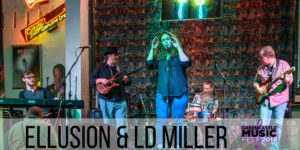 Greencastle, IN – The highly anticipated Greencastle Music Fest, hosted by Almost Home Restaurant, will take place in the streets of downtown Greencastle on August 25, 2018. The annual event brings the community together to enjoy a night of music. This year the event will feature local band Ellusion.
The band's special guest, LD Miller, picked up the harmonica at six years old and hasn't put it down since. He was said to be the "world's greatest living harmonica player" at only 14 years old. Miller, who has made national headlines across the country has opened for or shared the stage with Stevie Wonder, Buddy Guy, Blues Traveler, B.B King, Ricky Scaggs, Joe Bonamassa, Alicia Keys, India Arie, Kanye West, Jamie Foxx, Ziggy Marley, Joss Stone, James Cotton, Ricky Minor band and more.
Ellusion shared their excitement about their upcoming performance at the Greencastle Music Fest. "There's a certain energy only a music festival can provide, and we are excited to share that energy with the people of Greencastle."
Gail Smith, creator of Greencastle Music Fest adds, "The energy that Ellusion with LD Miller will bring to the stage at this year's event is exciting. They are an incredible regional band, and this collaboration is sure to get people dancing. Especially after an incredible opening with Tad Robinson and his band and followed up with the Louisville Crashers."
Ellusion is comprised of Sara Phoebe, vocals; Jeremy Bates, guitars; Tommy Whiteman, drums; Tim Weer, bass; Matt Bloucher, keyboards; and a special appearance by LD Miller, of the Miller Band, on harmonica. The high energy band has been playing in the Midwest for 14 years, headlining at music festivals, such as the Bean Blossom Bluesfest and Terre Haute Blues at the Crossroads. Ellusion currently plays regular shows at the historic Slippery Noodle in Indianapolis. Previously, Ellusion was the house band at the Horseshoe Casino in Louisville and has played at the Ameristar in St Louis, the Tropicana in Evansville, the Knucklehead Saloon in Kansas City, The Verve and The Velvet Room in Terre Haute.
Ellusion recently recorded an album titled Ellusion which was produced by Wardco Studios in Greencastle. Their CD version of the album will be available for sale at the Greencastle Music Fest. The downloadable album can be purchased athttp://Ellusion.band or at Amazon. Ellusion can also be found on many popular streaming services and apps such as Spotify, Google Play, Amazon Music and more.
Stay up to date on the Greencastle Music Fest by visiting the Facebook page. Information about sponsorship opportunities as well as general information can be found at www.greencastlemusicfest.com
About Greencastle Music Fest and Almost Home
Greencastle Music Fest is a community music gathering that has been taking place in the streets of Greencastle, Indiana and is now in its 9th year. The event began as an anniversary celebration for local Greencastle restaurant, Almost Home, and is still hosted by the restaurant today. Almost Home is a restaurant located in Greencastle, Indiana and has been a staple in the community for 28 years. True to their name, the food served is comfort food at its finest, making customers feel as if they are "Almost Home".  In addition to the restaurant they have Swizzle Stick Bar, offer on-site private parties and cater many offsite events throughout the year.  For more information about them, please visit their website at www.almosthomerestaurant.com.